Tour of Britain: Cheddar Gorge-ous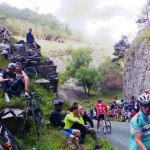 Fans in the Gorge
So tired, but so happy. Well worth it as a day out. Yesterday I went to the
Tour of Britain
as it passed through Cheddar Gorge. It was a fairly social trip, riding along with two from Bristol on the way in (hope they got back OK – one bike broke crossing the orchard at Sandford, but I showed them
Cheddar Cycle Store
) and one from Milton on the way back.
When I got there, I rode up the Gorge until I had to stop (or else fall off) and it was still packed with fans. It was a good half-hour before the race would pass by, but already almost every flattish piece of land by the road had either a spectator or a bicycle on it. I watched twitter for race news, posted an update @mjray, then put the phone away as the green-fronted police bikes came through just ahead of the racers. I tried videoing the race, but it's only the second outing for the handlebarcam and I seem to have deleted the recording before hooking it up to the laptop. Thankfully, the itv4 coverage (repeated 13:00) is pretty good. (My back is on TV! Ahem.)
Now, today (Saturday) I will be mostly doing the work scheduled for Friday, but it was still worth it. Go along if you get the chance: Suffolk and Norfolk today, Westminster tomorrow. I suggested it to @enterprisehub's #coopsweekend because the Rabobank team are doing well.
Syndicated 2011-09-17 05:34:10 from Software Cooperative News