Things that are not optimal in Helsinki: public transportation during night time. The otherwise excellent travel planner politely suggests that I take a brisk two-hour walk to get home.



I have actually done that, once. It is really not fun to walk for over two hours in -10 degrees in the middle of the night. I'm not lucky enough to be able to ski to the office, either, althogh I doubt I would have enjoyed that more...
As I'm sort of stuck here -- after yesterday's night out with the people from Jolly Dragon (as seen on TV!) I'm not in a position to spend € 20 on a taxi ride home -- I've been trying to figure out a nice way to spend this time, and thought I'd might as well update this diary, that has been largely ignored since my move from Sweden to Finland.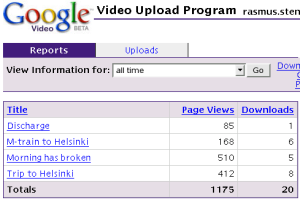 A stranger(?) called saksa2000 added me as a contact on Flickr. That's always nice, but as the ever so modest person I am, I was left puzzled as to how and why this person wanted to be my Flickr contact. Clicking through his profile, I landed on his blog - Düsseldorfin Sanomat. Much to my surprise, he had discovered one of my Google Videos. I made it, and a few others just as meaningless, when I had discovered iMovie on my mac. When I uploaded the movies to Google Video, I thought of them as a little embarrasing but possibly cute, as my first attempt of any kind of video editing. But I did not link to them from anywere -- I sent the Google Video links to my sister but not to anyone else -- so I really didn't expect anyone at all to notice them. Consequently, surprise was felt, when I checked the Google Video statistics for my videos, and saw over a thousand views of the four videos there -- halv of them to the "Morning has broken" video. Feel free to check them out for yourself, but as I said, they are a bit nonsensical and embarassing, so don't blame me if you feel cheated afterwards.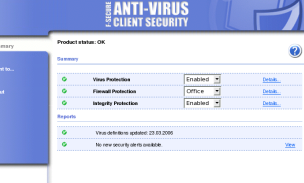 Totally unrelated, I have now worked with the Linux team at F-Secure for almost 10 months. We develop anti-virus software with real-time scanning, centralized management, integrity verification and more for desktops and servers as well as an anti-virus proxy. As a quality engineer (which is F-Secure speak for "tester"), much of my work is focused on test automation, so there's a lot of scripting and framework-building going on to get each build tested on a wide variety of platforms as thoroughly as possible. It has been -- and will hopefully continue to be -- a great time, and I think we have a really good team going here. We are a small but rather tight team with fast and open communication. It is a big difference for me, who has mainly worked as a consultant during my career, to work for a software vendor. It is very nice to be able to work with some longer-term perspectives, in contrast to the time-is-money mentality when you are a consultant.