Novedades en la equivalencia internacional de títulos superiores españoles
Para empezar reconoceré que no tengo bien estudiada la regulación de las titulaciones universitarias en España. El caso es que he recibido el aviso de que se han publicado por fin las equivalencias internacionales de los títulos españoles. Por algún motivo tradicional, la estructura de las titulaciones superiores en España ha tenido poco que ver con las del resto del mundo. Se supone que ya todos sabemos cuáles han sido las transformaciones obligadas por «el plan Bolonia», que entre otras cosas pretende la movilidad de estudiantes y trabajadores y la interoperabilidad automática de los títulos superiores entre los paises comunitarios (creo que estrictamente va más allá de la UE pero hoy no es mi objetivo ser exhaustivo). Al parecer esa transformación de los títulos no era suficiente para saber cómo equivalen en el extranjero nuestros títulos. Y peor aún, cuáles son las equivalencias de los títulos superiores pre-Bolonia, que con frecuencia siguen siendo un lío al cambiar de universidad sin salir del país. La novedad es que parece que esa información ya ha quedado resuelta.
Siendo muy esquemático: el sistema de interoperabilidad de las titulaciones superiores en España se establece en el Marco Español de Cualificaciones para la Educación Superior (MECES), que, si yo no lo entiendo mal, sirve para establecer las equivalencias con el Marco Europeo de Cualificaciones para el Aprendizaje Permanente (EQF en inglés), que es la piedra de Rosetta para todo este sistema.
Pues bien, desde el 1 de junio de 2016 ya están publicadas oficialmente las equivalencias, como indican en el original: «correspondence between the Spanish Qualifications Framework for Higher Education and the European Qualifications Framework».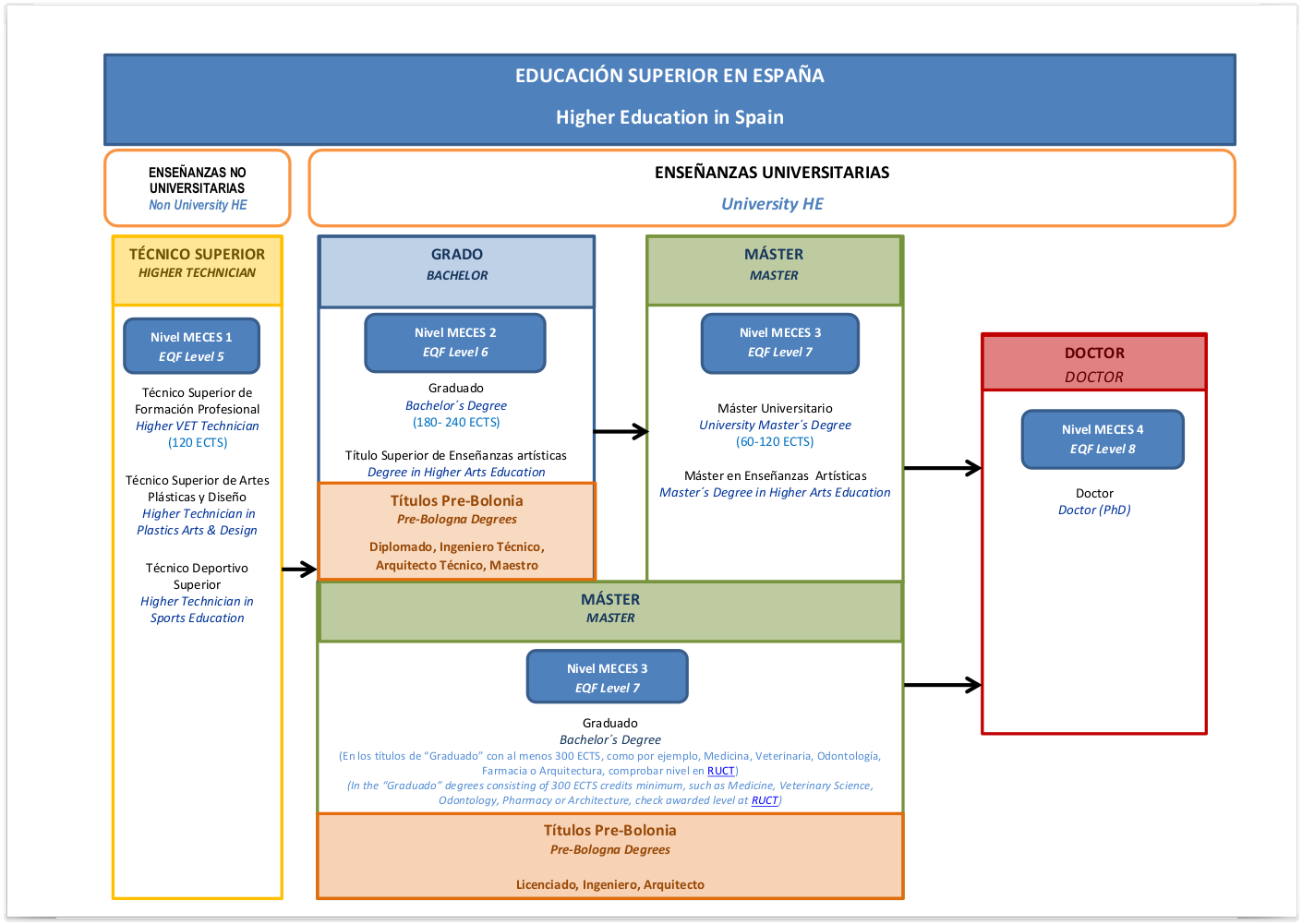 ¿Cuáles son las consecuencias? Probablemente algunas más, pero entiendo que al menos a partir de ahora, por ejemplo, puedes matricularte en cualquier universidad que implemente el EQF sin tener que pasar por el desesperante proceso de convalidación de tus títulos.
Dejo esta entrada a modo de recordatorio personal y con la esperanza de que sea de utilidad. Si alguien detecta algún error que por favor lo indique en los comentarios.
Referencias: