I've just been working on Evolution's reply code, and have added a couple more of those annoying "nag pop-ups", including this one which I expect a lot of people will appreciate when they don't get the resulting mail: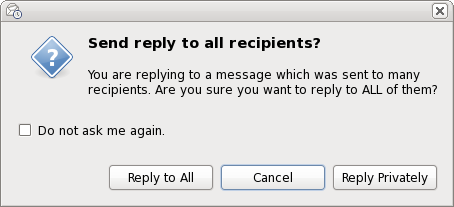 It's currently set to trigger if you hit 'Reply to All' on a message with more than 15 recipients; unless it's a mailing list message. And of course you can see that it's trivial to turn it off if you never want to see it again.
I've also taken a moment to write down and post some thoughts on the 'Reply to All' vs. 'Reply to List' debate for mailing list messages.